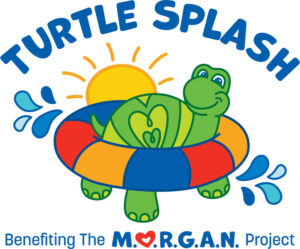 Turtle Splash
With heartfelt thanks and gratitude to our supporters, The M.O.R.G.A.N. Project would like to announce that our beloved Turtle Splash Fundraiser has run its last course. Like many organizations post-Covid we were forced to carefully re-evaluate our processes to continue to serve our mission to support the special-needs community. It has allowed us the time to reflect on the past, review our successes, and effectively plan for the future. The M.O.R.G.A.N. Project is run by volunteers whose time is our most valuable resource. We have evaluated the 1000's of man hours required to effectively run our signature Turtle Splash and have made the bittersweet but necessary decision to retire the event while it was a success. We are lovingly committed to redirect that time to administering our programs for immediate and direct support to those special-needs families that we serve.
Thank you Turtle Adopters for supporting 17 Years of Turtle Splash!

Thank you Sponsors for your continued generosity!

Thank you Volunteers for your dedication to our event!

Thank you to our very special and greatly appreciated Turtle Fairy and family for your commitment to this organization!

Thank you to Snorkel the Turtle and his 4000 best friends for your dedication to "just keep swimming" to make a difference in the lives of children with disabilities for 17 years!
What about the turtles????
Rumor has it they are headed for the East Australian Current for a long overdue vacation with their long-lost cousin, Crush, before finding a new organization to race for and continue to make a difference in the world. After all, they are still just teenagers.

How can you continue to support The M.O.R.G.A.N. Project?
Our primary need right now is your help in raising awareness of our programs dedicated to enhancing the Quality of Life for families raising a child with disabilities. Our current programs are fully funded and applications are now open on our website – we just need to identify these very special families to let them know that we are here, refocused and ready to serve.
Please review our website and share it with anyone that you think might be able to benefit from our programs (www.themorganproject.org)

Please sign up for our Newsletter on the website and share our emails with your contacts.

 Please like our social media pages and share our posts on your own pages (www.facebook.com/MorganProject)

Please support our organization every time you shop online (www.iGive.com/MORGAN)

On behalf of everyone here at The M.O.R.G.A.N. Project please know that we appreciate your ongoing support of our beloved annual signature event, Turtle Splash and our organization.
Please join us as we take a Splash Down Memory Lane: