Traditions of Childhood Series Returns!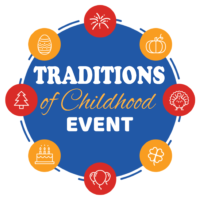 The Traditions of Childhood Series provides opportunities for children with disabilities, their families, and their caregivers to enjoy traditional childhood experiences in a sensory friendly environment. Children with sensory processing disorders and other disabilities often miss out on these important childhood experiences, like pictures with Santa or an Easter egg hunt, because community events are often inaccessible to them and their families.   The M.O.R.G.A.N. Project initially launched our Traditions of Childhood Program in 2012. This was a program that we hosted in-house, at our state-of-the-art facility, Morgan's Place, for our own clients. Over the past 9 years, the Traditions of Childhood Series has served over 5,000 participants with more than fifty events.
Each event celebrated a tradition of childhood that we all grew up with, and that are difficult for a child with disabilities to enjoy in a world that is not able to accommodate their specific challenges, especially for those with mobility and sensory impairments.  In years past we held events that included Sensory Pictures with Santa, Countdown to Noon Years Eve, Sensory Easter egg hunt, Valentine's Exchange Party, Halloween Costume Party, and more!  
As a result of the pandemic, and ultimately making the decision to close our facility,  we needed to find a way to continue to bring these Traditions of Childhood to our community in the post-Covid world.  Our newly reimagined Series utilizes partners in the community, that provide a venue for our events for members of the community that meet our target group.  Each Traditions of Childhood event is designed to be sensory friendly, fun, and tailored to entertain the whole family.  The M.O.R.G.A.N. Project will now collaborate with different community partners for 12 unique events each year.
We will post announcements in our Family Portal as well as in our email newsletter, so please be sure to sign up for our Newsletter to be the first to know.  To participate in our events will also require logging into our Family Portal, so be sure to set that up now to keep informed!
Pictures from the past 9 years at Morgan's Place